Dr. Hasan Duygulu, who offers the blepharoplasty procedure according to your facial structure, promises you an attractive and youthful look. The team at his private clinic aims for the unconditional satisfaction and happiness of patients by listening to their requests and determining the most suitable blepharoplasty treatment method for you.
Our blepharoplasty in Turkey offers natural-looking results that will leave you feeling refreshed and rejuvenated!
Blepharoplasty is a procedure that improves both aesthetic and medical issues with the eyelids. Sagging may occur on the eyelids due to aging and gravity. The aesthetic method, also known as eyelid surgery, corrects drooping or sagging eyelids. Excess fat tissue is removed and the area around the eyes is tightened to achieve a young and dynamic look.
Overview of Blepharoplasty in Istanbul
Want to know more about the price and options for blepharoplasty Turkey? Contact us today for a free consultation!
Are you looking for a cost-effective solution to aging? Our eyelid surgery in Turkey more than meets your expectations!
Blepharoplasty is divided into upper and lower eyelid surgery. The most suitable treatment method for you is determined during the examination, and both procedures can be applied according to your needs. Eyelid surgery can also be performed together with other facial rejuvenation cosmetic procedures such as facelift, neck lift, brow lift, and forehead lift.
Am I a suitable candidate for Blepharoplasty?
Considering a blepharoplasty surgery in Istanbul? Our aesthetic clinic offers exceptional care and attention to detail to ensure the best possible results!
As the skin with elastic structure ages, sagging may occur. Sagging eyelids may occur due to aging and the effect of gravity. The drooping eyelid skin can obstruct vision. In such cases, eyelid surgery is performed. Healthy individuals over the age of 18 can undergo blepharoplasty. If you have the following symptoms, you may be a good candidate for blepharoplasty:
If there is sagging and wrinkles around the eyes,
If you have droopy eyelids,
If you are experiencing vision problems due to sagging skin,
If you have tired-looking eyes,
If you have under-eye bags,
If you want to achieve a youthful look, you can have eyelid surgery.
Is Eyelid Surgery Permanent?
Eyelid surgery is a permanent cosmetic procedure. Since the fat and tissue causing sagging are removed during the procedure, the effects of the surgery are long-lasting. The results typically last between 8 to 10 years. However, as the skin continues to age, changes may occur in the eyelids over time. When the aesthetic function begins to decline, there is no harm in having the surgery performed again.
How Long Is The Blepharoplasty Recovery?
Eyelid Aesthetics is performed under general anesthesia, so the patient does not feel anything during the operation. After the surgery, bruising, bleeding, and swelling may occur around the eyes. These are common side effects. Dry eyes may persist for up to 2 weeks. If side effects last longer than usual, you should inform your doctor. Recovering from blepharoplasty for, it is important to follow the advice of the blepharoplasty surgeon and take good care of yourself.
Don't Worry, Here's What You Want To Know About Blepharoplasty
Looking for a trusted and experienced clinic for your blepharoplasty in Istanbul? Our team of experts is here to help!
I have sagging on my eyelids for a long time, but I'm afraid of surgery. Is eyelid surgery risky?
Eyelid aesthetics does not have a serious risk. It only has the common side effects that occur in any surgery such as bruising and slight bleeding after the operation. However, don't worry; Dr. Hasan Duygulu is a highly successful specialist in eyelid aesthetics. He will professionally improve the sagging on your eyelids.
I'm 32 years old and I don't consider myself as aged yet, but my eyelids are drooping. It affects my psychology. Is there an age range for eyelid aesthetic surgery?
For eyelid aesthetic surgery, the person must be healthy and their eye structure must have matured. It is often one of the cosmetic procedures preferred by people over the age of 35. However, if there are sagging and discomfort around the eyes, it can be applied to individuals over 18 years of age.
Do I have to change my ID/passport/driver's license photo after Blepharoplasty?
You don't have to change the photos on your documents after Blepharoplasty. The procedure doesn't cause any significant changes to your facial structure, it just gives your eyes a more youthful appearance.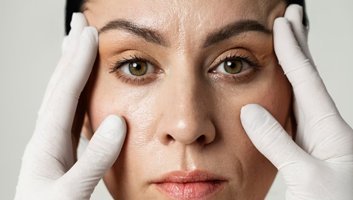 I am 40 years old and I'm planning to have eyelid surgery. How long do the effects of eyelid surgery last?
Eyelid surgery involves removing excess fat and skin that cause drooping, resulting in a more youthful appearance. The effects of the surgery can last up to 10 years in a healthy body. When the aesthetic effect begins to fade, the procedure can be repeated.
There is no drooping on my eyelid that bothers me. However, my under-eye bags are bothering me.
Lower eyelid surgery is performed to improve under-eye bags. This way, you can get rid of the appearance that bothers you without interfering with the upper eyelid.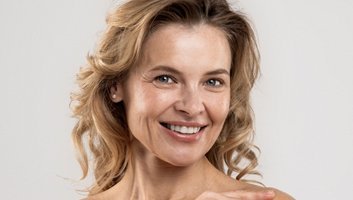 I have sagging eyelids and neck. Which aesthetic method would be suitable for me?
For the sagging in your eyelids and neck, our recommendation would be blepharoplasty and neck lift procedures. Blepharoplasty is performed to improve sagging in the eye area, while neck lift addresses deformities in the neck area. With these procedures, you can achieve the desired appearance.
Blepharoplasty Before And After
Things to consider before Blepharoplasty
Dr. Hasan Duygulu determines the appropriate eyelid surgery method during the examination.
Routine control tests are performed to ensure the operation goes smoothly.
A photo of the eye structure is taken.
At least 1 week before the surgery, the use of blood-thinning medications such as aspirin, herbal teas, and herbal products should be stopped.
If there are regularly taken medications such as blood pressure medications or antidepressants, the doctor must be informed.
Smoking and alcohol consumption should be stopped for at least 3 weeks before the surgery.
For general anesthesia, the patient should come to the surgery in a fasting state.
Skin care is important. The skin should not come into contact with any chemical products. No makeup should be applied before the procedure.
Things to consider after Blepharoplasty
To achieve successful results, smoking and alcohol consumption should be avoided for at least a month after the surgery. Medications should be taken under the control of a doctor.
Bleeding, bruising, and swelling may occur around the eyes. These side effects are not dangerous.
You can apply the eye drops and ointment your doctor gave you to your eyelids.
It is not recommended to drive a car until full recovery.
To minimize swelling and pain, you should keep your head elevated.
To protect the eyes from the sun, wear sunglasses. Sunscreen should be used regularly.
Swimming and strenuous exercise should be avoided for a while.
Eating a balanced diet and drinking plenty of fluids is recommended for healthy skin.
Anesthesia
General anesthesia is applied. The patient does not feel any pain or discomfort during the procedure.
The Incision Procedure
The incision is made either at the base of the eyelashes or in the crease of the eyelid.
Shaping
Excess muscle and fat tissue are removed.
Final Touch
After sufficient tension is achieved, the incisions are closed with stitches.
Blepharoplasty Cost Turkey
Considering a eyelid surgery? Our aesthetic clinic in Turkey offers top-notch treatment at a competitive price!
The cost of blepharoplasty varies depending on the country where the surgery will be performed, the details of the procedure, and the expertise of the doctor. In Turkey, eyelid surgery prices are more affordable compared to the world. On average, eyelid surgery prices in Turkey are around $2000. You can contact us for detailed price information.
| | | | |
| --- | --- | --- | --- |
| Blepharoplasty | Turkey | United Kingdom | USA |
| Cost | 2000$ - 3500$ | 5000€ - 6000€ | 4000$ - 6000$ |
You can contact us for information about aesthetic procedures and to make an appointment.
The Procedure for a
Blepharoplasty at Hasan Duygulu
Blepharoplasty What Our Patients Think?
Dr. Hasan Duygulu performed an incredible Blepharoplasty procedure on me. From the moment I arrived at the clinic, I felt confident in his expertise and the professionalism of his team. The surgery itself was painless and the recovery process was quick and easy. I am beyond happy with the results and would highly recommend Dr. Duygulu to anyone considering an eyelid aesthetic surgery.
I had been self-conscious about my droopy eyelids for years before I decided to have Blepharoplasty with Dr. Hasan Duygulu. I was nervous about undergoing surgery, but Dr. Duygulu and his staff were incredibly reassuring and made me feel at ease. The procedure itself was straightforward and the aftercare was excellent. My eyelids look natural and youthful, and I am thrilled with the results.
I traveled from overseas to have Blepharoplasty with Dr. Hasan Duygulu, and it was worth every penny. The clinic was clean and modern, and the staff were friendly and professional. Dr. Duygulu took the time to listen to my concerns and answer all of my questions. The surgery went smoothly and my recovery was comfortable. The results are fantastic, and I am so happy that I chose Dr. Duygulu for my eyelid aesthetic surgery.
I had the pleasure of having Dr. Hasan Duygulu as my surgeon for Blepharoplasty and I am so happy with the results. He was extremely professional and attentive throughout the entire process, from the initial consultation to the post-op follow-ups. The surgery itself was quick and painless, and the recovery period was smooth thanks to his detailed instructions and care. I highly recommend Dr. Duygulu for anyone considering aesthetic surgery in Turkey.
Dr. Duygulu is an amazing surgeon who truly cares about his patients. He took the time to listen to my concerns and explain the Blepharoplasty procedure in detail. The surgery itself was flawless and the results exceeded my expectations. I felt comfortable and confident in his care and would definitely recommend him to anyone looking for a skilled and compassionate surgeon in Turkey.
I had my Blepharoplasty surgery with Dr. Duygulu and I am beyond satisfied with the outcome. He is an excellent surgeon who is very knowledgeable, skilled, and caring. He made sure I was comfortable and informed every step of the way, and the results speak for themselves. I am so grateful to have found him and would highly recommend him to anyone looking for top-quality aesthetic surgery in Turkey.
I cannot recommend Dr. Hasan Duygulu enough. From start to finish, he made me feel completely comfortable and at ease. His attention to detail is second to none and he truly cares about the well-being of his patients. My eyelid surgery results are amazing and I couldn't be happier!
Dr. Duygulu is a true artist. He is incredibly skilled and knowledgeable in his field and his passion for his work shows in the results he achieves. My eyelid surgery was a total success and I am so happy with the outcome. I would highly recommend him to anyone considering cosmetic surgery.
I am so impressed with Dr. Duygulu's work. He is a true professional who is dedicated to providing the best possible results for his patients. My eyelid surgery went smoothly and the recovery process was a breeze thanks to his care and guidance. I highly recommend him to anyone looking for a skilled and caring cosmetic surgeon.
Blepharoplasty What Our Patients Think?
I was nervous since it was my first surgery ever, but the doctor and staff made me feel so comfortable and the process was so smooth! Love my result and new nose so much it's exactly what I wanted and so grateful for everything.
I highly recommend Doctor Hasan and his team! Surgery went great, his team is taking a good care of you from the moment you arrive to Istanbul 🙂 When it comes to outcome, he had vision of fixing the nose but keeping it natural and according to rest of the face.
This should be a double review for Dr Hasan Duygulu. Last spring he performed an aesthetic surgery for my friend and last week he performed a full face lift surgery for me.
I'm 2 months post op I traveled from NYC to Istanbul and I'm so happy with my results. I especially want to thank Tina and Ismihan for being so amazing and being there every step of the way. Amazing doctor amazing results
I came from Scotland and had rhinoplasty 3 months ago and I couldn't be happier with my results. The whole trip was made to be very stress free and relaxed. Dr Hasan Dutgulu was very professional and knew exactly what I wanted. Highly recommended!
Hello, how can I help you?
Frequently Asked Questions