Dr. Hasan Duygulu, who offers the fox eyes procedure according to the structure of the skin, promises you an attractive and sparkling gaze. The team at his private clinic aims for the unconditional satisfaction and happiness of patients, listens to your desires, and determines the most suitable eyelid fox eyes surgery Turkey method for you.
What is Fox Eyes Surgery?
Our fox eyes in Turkey offers natural-looking results that will leave you feeling refreshed and rejuvenated!
Fox Eyes is a safe surgical procedure performed to give effective and youthful appearance to the eyes. After the procedure, wrinkles and lines around the eyes completely disappear. The effect of the aesthetic is long-lasting. It is a definitive method for permanent and natural-looking eyes. There is no change in vision after the application, as only the eyelid is reshaped.
Fox Eyes, which is becoming more and more popular among the types of eyelid surgery (blepharoplasty), is one of the facial rejuvenation procedures performed to make the eyes more attractive. By making a small incision on the outside of the eye, a foxy-looking gaze is achieved. There is no drastic change in the structure of the face. After the procedure, you will have an attractive, cunning (foxy) gaze. Anyone over the age of 18 can have fox eye surgery for attractive looks. It is also a popular choice for people with low eyebrows, small eyes, and those who want to get rid of tired expressions in their eyes. The most important part of the procedure is whether your facial features are compatible with the fox eye look.
Overview of Fox Eye Surgery Turkey
Want to know more about the price and options for fox eyes Turkey? Contact us today for a free consultation!
Fox Eyes Surgery Before And After
After the aesthetics, you will immediately see the remarkable change in your facial structure. While preserving your natural look, you will have younger and more attractive eyes.
Expert Dr. Hasan Duygulu guarantees you success in aesthetic operations. To alleviate your concerns, you can read about the procedures performed by our doctor and the satisfied comments of his patients.
What Should Be Done Before Fox Eyes Surgery?
Firstly, it is recommended to examine the details of the fox eyes aesthetic procedure.
The selection of a doctor is important for a successful and flawless surgery process. Dr. Hasan Duygulu and his team manage the surgery process with high standards of professionalism.
Obtaining the fox eye appearance depends primarily on the patient's preferences, but during the examination, the doctor checks whether the look is suitable for the patient's facial type.
If there is any medication used before the surgery, the doctor must be informed.
Since anesthesia will be performed, the patient should come to the surgery on an empty stomach.
Smoking and alcohol should not be used at least 3 weeks before the surgery.
Before the procedure, routine tests are performed for blood values and hormone levels for control purposes.
The skin should be kept clean before the procedure, and no chemical or makeup product should be used.
What Should Be Done After Fox Eyes Surgery?
It is highly important to follow the post-operative guidelines for the recovery process.
As the surgery is performed under local anesthesia, there won't be any difficulties or pain. One can continue with their daily routine after resting for a day.
Patients with sensitive skin may experience slight redness and small bruises on their faces after the procedure. The side effects will heal on their own within a few days and are not dangerous.
The stitches used in the Fox eyes aesthetic procedure will dissolve by themselves, so there is no need to remove them. The remaining stitches can be easily removed under the doctor's control, and there will be no stitch marks.
The head should be kept elevated during the first few days. It is recommended to use two pillows while sleeping in a supine position.
One can take a shower two days after the surgery, and it is recommended to use baby shampoo.
One should take a break from any activities or exercises that strain the body.
Activities that strain the eyes should be avoided after the procedure. One should avoid looking at a computer, phone, or TV screen for extended periods.
One should be careful with using makeup products. No makeup should be used until the eye area is completely healed.
Contact lenses should not be used until the eyes are fully healed, which can take a few weeks.
Complete recovery occurs within a month after surgery, but it may take up to two weeks for some patients. To speed up the healing process, one should eat healthily and drink plenty of water.
Alcohol and smoking should be avoided until full recovery.
Fox Eyes Before & After Gallery
Are you curious about the before-after results of a fox eyes surgery Turkey? Check out our photo gallery and see the difference for yourself!
Preparation
During the examination, facial features and eye structure are carefully examined. Markings are made around the eye area.
Anesthesia
Local anesthesia is used to numb the area so that the patient does not feel pain. General anesthesia may also be preferred depending on the situation.
The Incision Procedure
After anesthesia, a small incision is made on the outer part of the eye. The parts located on the edge of the eye are pulled upward through special surgical threads.
Final Touch
After the lifting process is completed, small stitches are made and the surgery ends.
Considering a fox eyes istanbul? Our aesthetic clinic in Turkey offers top-notch treatment at a competitive price!
The prices for fox eyes can vary depending on the region.Fox eye surgery turkey price, the prices are around 1500-4000 dollars. The price of fox eyes aesthetic is determined by the center where the procedure is performed, the expertise of the doctor, and the materials used. The details of the aesthetics are tailored to the patient's needs. For a detailed pricing, contact Dr. Hasan Duygulu and his team, who provide natural-looking fox eye aesthetic results to patients from all around the world.
| | | | |
| --- | --- | --- | --- |
| Fox Eyes | Turkey | United Kingdom | USA |
| Cost | 1.500$- 4000$ | 4.500£ - 7.500£ | 10.000$ - 30.000$ |
You can contact us for information about aesthetic procedures and to make an appointment.
Don't Worry, Here's What You Want To Know About Fox Eyes Turkey
Looking for a trusted and experienced clinic for your fox eyes in Istanbul? Our team of experts is here to help!
Who can have the Fox Eyes aesthetic procedure? Is it suitable for me?
People with low eye structure often get the fox eyes aesthetic. The important part of this aesthetic is whether your facial features are compatible with fox eyes gaze. If you think fox eyes would suit you and have slight wrinkles and lines around your eyes, you can easily get this aesthetic. If you are unsure about the look, don't worry; Dr. Hasan Duygulu will examine your facial features and eye area in detail before the procedure. He will determine the appropriate treatment method and provide information about the procedure.
Will I have Bella Hadid's eyes after the aesthetic? I don't want overly tense-looking eyes.
Bella Hadid is one of the celebrities representing the fox eye aesthetic. If you desire to have attractive eyes like Bella, then you should definitely consider getting this procedure done. Additionally, the level of tightening is completely adjustable according to your wishes. Thus, you can have the degree of tightening that you desire.
What is the difference between Fox Eyes and Eyelid Aesthetic? Which one should I choose?
Fox Eyes are done to provide an attractive look to the eyes. The outer part of the eye is slightly lifted upwards through small incisions. This way, you can have both attractive and tense looks, and the wrinkles and lines around the eye area disappear completely. Eyelid Aesthetic, on the other hand, is a more comprehensive procedure. During the procedure, the sagging skin and fat bags on the eyelid are removed. Depending on the person's needs, both procedures can be done at the same time. Don't worry about the choice. Dr. Hasan Duygulu will recommend the appropriate treatment method for you during your examination.
I want to have Fox Eyes lift surgery, but I'm afraid of the operation. Should I be worried?
If you have concerns about Fox Eyes, don't worry! Fox Eyes surgery is a fairly simple procedure. You will not feel any pain during the operation. The recovery process is also quite fast. In addition, you can be sure that Dr. Hasan Duygulu and his team's professionalism will give you confidence.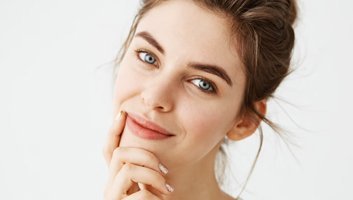 I have concerns about the permanence of Fox Eyes aesthetics. How long does the effect of the procedure last?
The effect of the Fox Eyes procedure lasts for about 10 years. This permanence rate also depends on the person's lifestyle. If you lead a healthy lifestyle, you can have attractive looks for many years.
Do I have to change my ID/passport/driver's license photo after Fox Eyes surgery?
Fox Eyes surgery does not cause a radical change in your face. Therefore, you do not have to change the photos on your documents. In fact, even your friends may not notice the aesthetics because with Dr. Hasan Duygulu's artistic touch, you will have natural and realistic looks.
The Procedure for a
Fox Eyes at Hasan Duygulu
Fox Eyes What Our Patients Think?
Dr. Hasan Duygulu is hands down the best surgeon I have ever had the pleasure of meeting. I traveled all the way from the United States to Turkey to have the Fox eyes surgery, and I am beyond thrilled with the results. Dr. Duygulu is not only incredibly skilled and knowledgeable, but he is also caring and attentive. He took the time to listen to my concerns and answer all of my questions, which made me feel confident and at ease throughout the entire process. If you're considering Fox eyes surgery, I highly recommend Dr. Duygulu.
I cannot say enough good things about Dr. Hasan Duygulu and his team. From the moment I arrived in Turkey, they made me feel welcome and cared for. The Fox eyes surgery went smoothly, and the recovery process was surprisingly easy. Dr. Duygulu checked in on me regularly and provided excellent aftercare instructions. I am so happy with the results and would definitely recommend Dr. Duygulu to anyone looking for a skilled and compassionate surgeon.
I am absolutely thrilled with the results of my Fox eyes surgery with Dr. Hasan Duygulu. I traveled from the UK to Turkey to have the procedure done, and I am so glad I did. Dr. Duygulu is a true expert in his field, and his passion for what he does is evident in the quality of his work. He made me feel comfortable and confident throughout the entire process, and I am so grateful to him and his team for making my experience such a positive one.
I cannot recommend Dr. Hasan Duygulu enough! I traveled from the United States to Turkey to have the Fox eyes surgery, and I could not be happier with the results. Dr. Duygulu is a true professional, and his attention to detail is exceptional. He listened carefully to my concerns and worked with me to create a customized plan that met my needs. His staff is also amazing - they were kind, compassionate, and very accommodating throughout my stay. Thank you, Dr. Duygulu, for changing my life!
I had an amazing experience with Dr. Hasan Duygulu and his team. They made me feel comfortable and confident from start to finish, and the Fox eyes surgery results were even better than I could have imagined. Dr. Duygulu is a true artist, and his skill and expertise are second to none. I traveled from the United States to Turkey to have the procedure done, and it was worth every penny. I highly recommend Dr. Duygulu to anyone looking for a skilled and compassionate surgeon.
"I am so happy I chose Dr. Hasan Duygulu for my Fox eyes surgery. From the moment I walked into his clinic, I felt at ease. He and his team are true professionals who care about their patients' well-being. The surgery went smoothly, and the aftercare was exceptional. Dr. Duygulu was always available to answer my questions and address my concerns, and I could not be happier with the results. If you're looking for a talented and caring surgeon, Dr. Duygulu is the one to choose!
Dr. Duygulu is truly an artist in his field! I was hesitant to have the Fox eyes procedure done, but after seeing his impressive before and after photos, I decided to go for it. The surgery was a success and the recovery process was smooth. Dr. Duygulu was extremely attentive and answered all of my questions with patience and care. I am so happy with my results and would recommend him to anyone considering a similar procedure.
I traveled all the way from the US to have Dr. Duygulu perform my Fox eyes surgery, and I am so glad I did. From the moment I walked into his office, I felt comfortable and confident in his abilities. He took the time to thoroughly explain the procedure and what to expect during recovery. His attention to detail is impeccable and he truly cares about his patients. I am thrilled with my results and would definitely make the trip back to Turkey to see him again.
I had my Fox eyes procedure done by Dr. Duygulu a few months ago and I am amazed at the results. He transformed my tired, droopy eyes into a more youthful and refreshed appearance. The entire process was stress-free thanks to his professionalism and expertise. I appreciated how he followed up with me post-surgery to ensure everything was healing properly. If you're considering any type of cosmetic surgery, Dr. Duygulu should be your go-to!
Fox Eyes What Our Patients Think?
I was nervous since it was my first surgery ever, but the doctor and staff made me feel so comfortable and the process was so smooth! Love my result and new nose so much it's exactly what I wanted and so grateful for everything.
I highly recommend Doctor Hasan and his team! Surgery went great, his team is taking a good care of you from the moment you arrive to Istanbul 🙂 When it comes to outcome, he had vision of fixing the nose but keeping it natural and according to rest of the face.
This should be a double review for Dr Hasan Duygulu. Last spring he performed an aesthetic surgery for my friend and last week he performed a full face lift surgery for me.
I'm 2 months post op I traveled from NYC to Istanbul and I'm so happy with my results. I especially want to thank Tina and Ismihan for being so amazing and being there every step of the way. Amazing doctor amazing results
I came from Scotland and had rhinoplasty 3 months ago and I couldn't be happier with my results. The whole trip was made to be very stress free and relaxed. Dr Hasan Dutgulu was very professional and knew exactly what I wanted. Highly recommended!
Hello, how can I help you?
Frequently Asked Questions