If you have started to see the lines around the eyes; yes, you are in the right place! In this week's blog, we have compiled eyelid aesthetics for you. By reading our article; You can learn about eyelid aesthetics applied according to facial features and learn the most suitable method for yourself. We wish you pleasant reading.
What is Eyelid Surgery?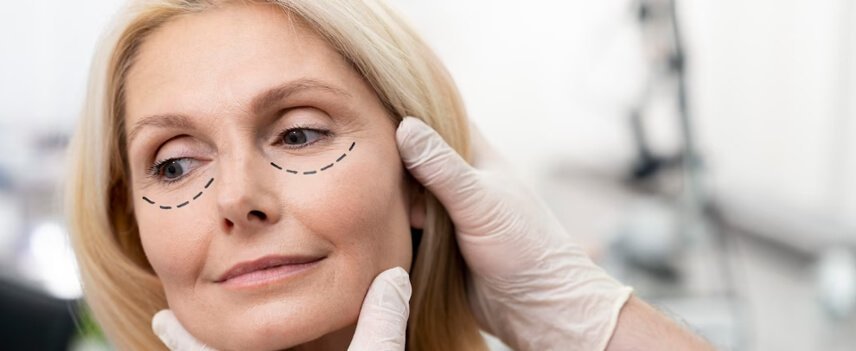 Eyelid surgery is an aesthetic method applied to rejuvenate the appearance of the eye. Eyelid aesthetics are performed in line with functional needs and cosmetic desires. In eyelid aesthetics, the aging eye contour is improved and the gaze is revitalized. As a result of aesthetics, you will have a renewed eye contour.
The first signs of aging always start in the eyes. The eyelids become susceptible to sagging with age and bags start to appear under the eyes. Excessive sagging of the skin can of course also affect the visual function of the eye. Therefore, eyelid surgery is a surgical procedure that people need both aesthetically and functionally.
In Which Situations Should Eyelid Aesthetics Be Applied?
Eyelid aesthetics is sometimes considered as the shortest way to rejuvenation. Aesthetics are preferred for the solution of problems occurring in the eyelid. Apart from this, people apply for eyelid aesthetics to achieve an aesthetic appearance that is considered more popular in society. The situations in which people apply for eye aesthetics can be summarized as follows:
Falling upper eyelids,
Bags under the eyes
Wrinkled eye lines,
Tired-looking eye lines and
In cases such as vision becoming difficult, eye aesthetics should be applied.
Why Do Your Eyes Show Signs of Ageing?

As a person ages, the muscles in their body begin to weaken. The first signs of aging show themselves around the eyes. Weakening of the eye muscles causes wrinkles, lines and sagging around the eyes. Although aging processes vary according to the person, the reasons why the eyes show signs of aging can be listed as follows:
Genetic factors,
Sun rays
Unhealthy diet,
Irregular sleep,
Smoking and alcohol use,
Environmental factors such as air pollution cause aging of the eyes.
What is a Good Age for Eyelid Surgery?
Eyelid aesthetics can be applied to people over the age of 18. However, as in every aesthetic, there are more suitable age ranges for eye aesthetics. In the 20s, the body and therefore the eyes maintain their vitality. Environmental factors do not directly affect the eye at this age. However, aesthetics may be preferred if there are low eyelids and dark circles under the eyes due to genetic factors.
Eye aesthetics are commonly preferred by people over the age of 30. Towards the 40s, environmental factors and aging effects begin to affect the eyes. Eye aesthetics is always a good idea in your 40s to repair drooping eyelids and correct tired looks.
Are You a Good Candidate for Eyelid Surgery?
If you are complaining about the deformations around your eyes, you have a chance to be a good candidate for eye aesthetic surgery. It is determined during the examination by the specialist doctor that you are not a good candidate for eye aesthetic surgery. However, if you are over the age of 18 and want your eye structure to change, you can most likely have eye aesthetic surgery.
What are the Advantages of Eyelid Aesthetic Procedure?
You will look physically younger.
You will get a rested and vibrant eye structure.
You will permanently get rid of under-eye wrinkles and bags.
You will be unforgettable with sexier and sharper looks.
You will have long-lasting permanent results.
How is Eyelid Aesthetics Performed? Is Eyelid Aesthetics Safe?
Eye aesthetics is an operation performed under general anesthesia. Aesthetics are divided into 2 as upper eyelid aesthetics and lower eye aesthetic surgery. The most appropriate treatment method is selected by the specialist in line with the aesthetic needs of the person. Eye aesthetic surgeries performed by plastic surgeons in Turkey have a high success rate. Therefore, it is possible to say that these aesthetics are safe procedures.
What Are Eye Aesthetics Treatments? Types of Eyelid Surgery
Commonly, people try to cover the signs of aging and reduce the effects of aging with cosmetics such as creams and serums. However, cosmetic products have temporary effects. Eyelid aesthetic methods should always be the first choice for precise and permanent results. Eyelid aesthetics are surgeries designed to permanently rejuvenate you.
Cat Eyes Surgery (Bella Eyes)
Cat eyes is an aesthetic that offers a more lifted gaze. Cat eyes aesthetics is a suitable eye surgery for people who want to get rid of the sagging appearance of the eyelids and want a definite look. For more detailed information about cat eyes surgery in Turkey precedure, we recommend our blog post.
Blepharoplasty
Blepharoplasty is a comprehensive aesthetic method. It is suitable for people who want to have detailed procedures in the eye structure. Blepharoplasty, which is a safe procedure, is frequently preferred by people over the age of 30. For more information about aesthetics and to make an appointment, you can visit our Blepharoplasty Turkey page.
Fox Eyes Surgery
Fox eyes is one of the best aesthetic methods for people who want the eyelid to be lifted towards the upper side. As a result of aesthetics, the eye structure has a more prominent and hard appearance. You can reach our Fox Eyes Turkey page to make an appointment and get detailed information from our experts.
Almond Eye Surgery
Almond eye surgery is a method applied for wide eyelids. During aesthetics, excess tissues in the eye structure are removed and a more tense and dynamic image is obtained. For more information about aesthetics, you can read our blog almond eye surgery in Turkey.
Which Eyelid Surgery Should Be Performed According to Your Face Shape?
Each person's facial structure is unique and different. Therefore, the aesthetics to be applied should be compatible with the facial features of the person. There are different methods in eye aesthetic surgeries. Within the scope of the person's wishes and suitability, the specialist surgeon chooses one of the aesthetic methods and offers the desired appearance to the person. In the table below, ideas about the treatment methods suitable for the face shape are presented:
| | |
| --- | --- |
| Face Structure | Appropriate Aesthetics |
| Long | Almond Eye |
| Angular | Fox Eyes |
| Round | Cat Eyes |
| Square | Blepharoplasty |
| Triangle | Bella Eyes |
| Oval | Blepharoplasty |
| Diamond | Cat eyes |
| Heart | Blepharoplasty |
The eye aesthetic methods given in the table are arranged to give an idea to the person. You can contact us to get information about eye aesthetics suitable for your face type and to be examined.