With a Bullhorn Lip Lift, you can look much younger and more balanced. This procedure for lip augmentation makes the upper lip look more attractive and gives it a slight lift. Learn more and set up a consultation today to find out if a lip lift is right for you.
What Is a Bullhorn Lip Lift?
There are many types of Lip Lift such as Italian Lip Lift. Bullhorn lip lift is a type of surgery that improves how the upper lip looks. It is named a bullhorn since the cut is made in the shape of a bullhorn at the base of the nose. The process involves removing a small strip of skin, which makes the distance between both the base of the nose and the upper lip shorter.
This can make the upper lip look fuller and more defined and also make the face look more balanced. The lip lift surgery is usually done with local anesthetic, and the healing process isn't too long. The procedure can be done on its own or in combination with the other beauty treatments, such as a face lift, or non-surgical procedures.
How Much Does a Lip Lift Cost?
The price in Turkey for a lip surgery can vary based on the surgeon as well as the location of the treatment center, but it is usually less expensive than in the UK. It can be anywhere from about £1,500 to £3,500.
Turkey is a popular place for medical tourism, therefore there are numerous skilled and experienced plastic surgeons and professional clinics that provide lip lift cost at lower prices than in the UK.
Before the surgery, it's always a good idea to talk to the surgeon and clarify any concerns you might have about the price, recovery period, and expected outcomes.
Also, it's essential to look at the lip lift before and after photos of the surgeon's earlier patients to get an idea of what kind of results you can expect.
Is Lip Lift Surgery Permanent?
This is a permanent treatment, meaning that the cut made during surgery won't close back up. During the procedure, a cut is made in the skin. The skin is then removed and the remaining skin is sewn back together.
However the effects of the process do not have to last forever. The skin and tissues of the face can change over time because of aging, gravity, and other things. This can change how the procedure turns out.
Take into account that this surgery could really make the upper lip look better and make the face look younger and more balanced, but it doesn't stop the aging process. Still, the process of aging can happen over time, which could make the results change slightly over time.
Also, it's important to know that a lip lift treatment alone can't fix all problems with the lips. If you want to get the results you want, you might want to look into other non-surgical or surgical options.
Does a Lip Lift Change Your Smile?
Lip lift before and after smile is different because the treatment aims to make the upper lip look more defined and younger. The treatment can help the upper lip look fuller and stand out more, which can change how the lip moves when a person smiles.
But the transformation in the smile will be small, and that should be part of the procedure's main goal. The goal is to make the upper lip look better, not to make the person's smile look very different.
The surgeon will try to get results that look natural and go harmoniously with the other parts of the face. It's important to meet with a trained and skilled plastic surgeon for a consultation. You will be given a realistic idea of how lip augmentation can improve your smile.
Who Is Not a Candidate for a Bullhorn Lip Lift?
This type of surgery is not a good idea for everyone. There are some things that could make the treatment less good for some people, like:
Active skin diseases or infections in the area that will be treated.
Prior lip surgery.
Conditions like diabetes or problems with blood clotting that are not under control.
Women who are pregnant or who are nursing.
Smokers, because smoking can slow down the healing process and cause complications more likely.
People who have a very thin upper lip may not get the results they want from the procedure.
People who want a big change in how they look or have unrealistically high expectations about the process may not be excellent fits.
A lip augmentation can be a good choice for people who want to improve the look of their upper lip and make them look younger and more balanced. Most people who are ideal candidates for a lip augmentation have the following:
Thick upper lip.
Visible gums when smiling; also known as a "gummy" smile.
A smile with downturned lips or drooping corners.
Upper lip definition is lacking.
Inadequate proportion of upper lip to face.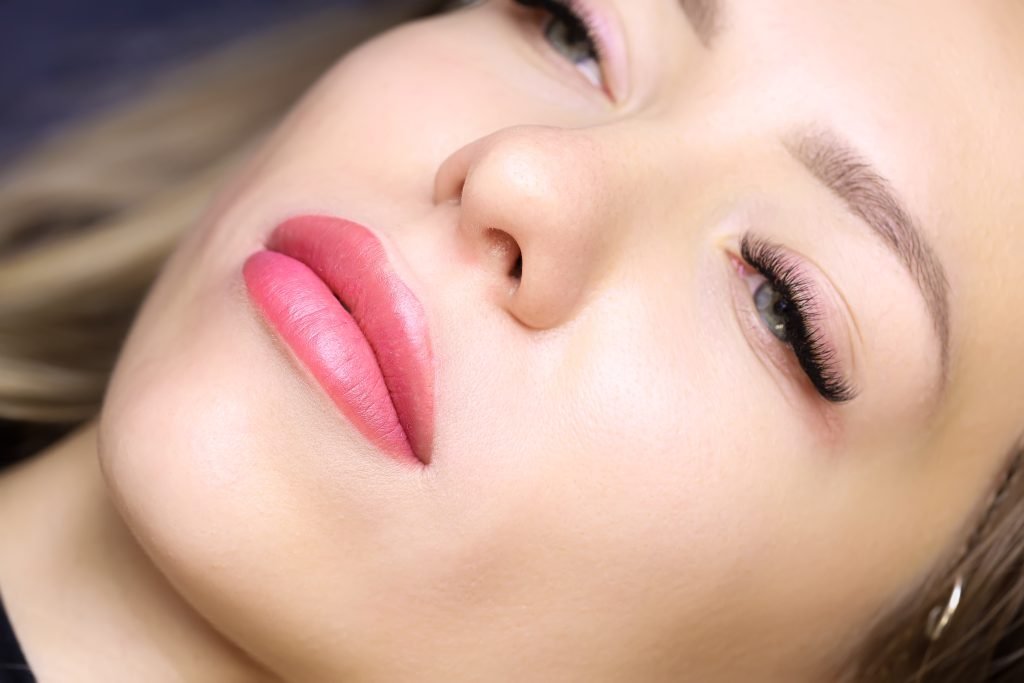 Does a Bullhorn Lip Lift Leave a Scar?
In order to do a lip augmentation, surgical incision is made along the underside of the nose, creating a distinctive horn-like scar. The incision is often placed in the top lip's natural crease, which will help the scar blend in when it heals.
The scar may be red or elevated when it first appears, but with good maintenance and time, it will diminish and become less apparent. While it's true that every surgery will result in a scar, a lip lift surgery typically results in a scar that is not only well-concealed but also virtually invisible.
Surgeons who specialize in plastic surgery know how important it is to leave as little visible evidence of the procedure as possible, so they take measures like making the incision in a naturally occurring crease line or using sutures that fade into the skin after healing.
Scarring is a natural part of the healing process; nevertheless, it is vital to keep in mind that the degree of scarring may vary from person to person and that it cannot be completely avoided.
Discover the Benefits of Lip Surgery: Achieve a Fuller and More Defined Lip
In order to achieve a much more youthful and well-balanced appearance, a lip lift Turkey can be performed to improve the lip's upper portion. Dr. Hasan Duygulu has been providing care for over ten years and is widely regarded as a leading authority in his fields of Face Aesthetics Turkey and Rhinoplasty Turkey.
Visit Face Aesthetics Clinic to speak with a board-certified plastic surgeon about your options if you're thinking about getting a bullhorn lip lift. Explore whether lip surgery is the perfect choice for you by making an appointment for a consultation right away.