Eyebrow Lift (Brow Lift) Turkey
Dr. Hasan Duygulu, who offers eyebrow lift procedures according to the structure of your face, promises you a renewed and tight appearance. The team at his private clinic aims for unconditional patient satisfaction and happiness, listens to your desires, and determines the most suitable brow lift treatment method for you.
Our brow lift in Turkey offers natural-looking results that will leave you feeling refreshed and rejuvenated!
Eyebrow lift surgery is an aesthetic procedure performed to eliminate forehead sagging, wrinkles, and frown lines. Eyebrow lift surgery is performed in three different ways. Depending on the individual's needs, endoscopic, direct, and classic eyebrow lift procedures are applied. Under general anesthesia, the skin is repositioned and the texture of the eyebrows is shaped.
Skin structure can loosen due to factors such as aging, tobacco use, irregular skin care, stress, and air pollution. Sagging eyebrows can result from the skin's looseness. Sagging eyebrows can lead to a tired and older-looking appearance. Through aesthetic procedures, weakened muscles in the eyebrow structure can be improved. The balance of cheek and eye structure is restored, and a more youthful and plump appearance is achieved in the skin.
Overview of Eyebrow Lift (Brow Lift)
You can contact us for information about aesthetic procedures and to make an appointment.
Are you looking for a cost-effective solution to aging? Our eyebrow lift Turkey more than meets your expectations!
Am I A Suitable Candidate For Brow Lift?
Considering a brow lift in Istanbul? Our aesthetic clinic offers exceptional care and attention to detail to ensure the best possible results!
Eyebrow lift cosmetic surgery is performed to treat the eyebrow structure. People over the age of 40 who commonly have signs of aging often prefer it, but healthy individuals over the age of 18 can undergo the procedure if they have the following indications:
People with low eyebrows,
Those who have tired-looking eyes,
 Those who have frown lines between the eyebrows can get a brow lift,
 Those who have deep and prominent forehead wrinkles can also undergo a brow lift surgery.
Is Eyebrow Lift Permanent?
The permanence of eyebrow lift treatment depends on the expertise of the doctor and the person's lifestyle. The results of a successful surgery can last up to 12 years. To maintain the aesthetics, a person should have a healthy diet and regularly take care of their skin. As aging continues, the eyebrow lift may need to be repeated if necessary.
Brow lift surgery is performed under general anesthesia and usually takes about 1 hour. The patient does not feel any pain or discomfort during the operation. After the surgery, mild bruising and swelling may be observed, which are common side effects of any surgery. Pain can be managed with painkillers and cold compresses to aid in recovery.
Recovery Process After Brow Lift
The complete healing process after eyebrow lift surgery usually takes around 2 weeks on average. It's important to follow the doctor's instructions for a quick and healthy recovery. The healing process can vary from person to person.
After the surgery, stitches are removed after 1 week. The dissolvable stitches will dissolve on their own. Swelling, bruising, and edema can occur in the face during this time. Cold compresses can be applied to reduce swelling. Pain medications prescribed by the doctor should be taken if necessary.
Don't Worry, Here's What You Want To Know About Eyebrow Lift Surgery
Looking for a trusted and experienced clinic for your brow lift in Istanbul? Our team of experts is here to help!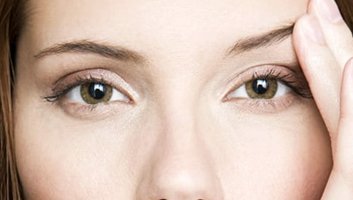 I am very scared of surgery, but I want to improve the appearance of my eyebrows and eyes. Is eyebrow lift risky?
You don't need to worry; Dr. Hasan Duygulu and his team have years of experience. During and after the surgery, all your checks will be done regularly. Eyebrow lift is a very easy cosmetic procedure. General anesthesia is applied during the surgery; you won't feel any pain.
Will there be visible stitch marks after eyebrow lift?
The size of the incisions made during the surgery is very small. Therefore, visible stitch marks will not be apparent. With regular care, the stitch marks will heal and disappear.
Do I need to change my ID/passport/driver's license photo after eyebrow lift?
You don't have to change the photos in your documents after eyebrow lift. It doesn't cause a significant change in your aesthetic appearance. The aesthetic result maintains your natural look and revitalizes your skin structure.
My eyes don't look good because my eyebrows are sagging. Is eyebrow lift enough for me, or do I also need eye surgery?
Eye surgery and eyebrow lift are often performed together. If you don't have intense aging around your eyes, you can have only eyebrow lift surgery. During your examination, your doctor will determine the most suitable treatment method for you.
How long does it take to recover from eyebrow lift? I regularly exercise. When can I return to my workouts?
Recovery after eyebrow lift surgery generally takes place within 2 weeks. During this time, you should take a break from activities that will strain your body. However, you can do light walks.
I'm 38 years old. There are lines and sagging on my forehead, so the appearance of my eyebrows is also sagging. Am I a suitable candidate for eyebrow lift?
Yes, you are a suitable candidate for eyebrow lift. Lines and sagging are improved with eyebrow lift aesthetics. Thus, you will experience rejuvenation in your facial structure.
Eyebrow Lift Before After
What Should Be Done Before Brow Lift?
During the physical examination, the appropriate treatment method is determined and routine check-up tests are performed.
For general anesthesia, the patient should come to the surgery on an empty stomach.
Aspirin and herbal teas should be stopped at least 1 week before surgery.
If there is a regularly used medication, the doctor should be informed.
Smoking and alcohol consumption should be stopped at least 3 weeks before surgery.
The skin should be left clean before the surgery, and no chemical products should come into contact with the skin.
What Should Be Done After Brow Lift Surgery?
After the surgery is completed, the eye, nose, and mouth areas are wrapped with a bandage, leaving them open. The bandages are removed two days later.
Stitches are removed after one week.
After the dressings are removed, the patient can take a shower.
To achieve a successful outcome, smoking and alcohol consumption should be avoided for one month after surgery.
Bruising, swelling, and edema are common side effects.
Tightness and numbness in the face may be observed, which is not a cause for concern and will eventually subside. Only medication prescribed by the doctor should be used.
To protect the face from the sun, sunscreen should be used, and wearing sunglasses and a hat is recommended.
To avoid any impact, the head should be kept elevated.
Heavy sports and exercises should be avoided until full recovery.
Eating healthy and drinking plenty of water is important for a healthy recovery process. Normal daily activities can be resumed after two weeks.
Anesthesia
The patient is put to sleep by applying general anesthesia.
The Incision Procedure
Small incisions are made on the scalp.
Shaping
The eyebrows are lifted upwards. If there is excess tissue, it is removed.
Final Touch
After the lifting procedure is completed, the incisions are closed with either stitches or skin adhesives.
Considering a eyebrow lift surgery? Our aesthetic clinic in Turkey offers top-notch treatment at a competitive price!
The cost of eyebrow lift surgery varies depending on the country where it is performed. The pricing of the procedure is determined by the details of the operation, the expertise of the doctor, and the clinic. Turkey has the most affordable eyebrow lift surgery costs among the countries. On average, the brow lift cost in Turkey is around $3,000.
| | | | |
| --- | --- | --- | --- |
| Eyebrow Lift | Turkey | United Kingdom | USA |
| Cost | 2000$ - 3500$ | 5000£ - 6000£ | 7000$ - 1000$ |
Want to know more about the price and options for eyebrow lift surgery in Turkey? Contact us today for a free consultation!
Eyebrow Lift Procedure at Hasan Duygulu
Brow Lift What Our Patients Think?
Dr. Hasan Duygulu is a talented and skilled plastic surgeon. I recently had an eyebrow lift procedure with him and I am extremely happy with the results. The entire process, from the initial consultation to the post-operative care, was handled with utmost professionalism. Dr. Duygulu and his team provided excellent support and made me feel comfortable throughout. I highly recommend him for anyone considering an eyebrow lift surgery.
I traveled all the way from abroad to have my eyebrow lift surgery with Dr. Hasan Duygulu, and I couldn't be more pleased with my decision. Dr. Duygulu is not only an expert in his field but also a compassionate and caring doctor. He took the time to understand my concerns and expectations, and he delivered amazing results. The entire experience, from the warm welcome at the clinic to the attentive follow-up after the surgery, exceeded my expectations. Thank you, Dr. Duygulu, for your exceptional skills and patient-centered care.
Dr. Hasan Duygulu is truly a master of eyebrow lift surgery. I am beyond satisfied with my results and the overall experience. Dr. Duygulu's attention to detail and precision during the procedure were remarkable. He listened to my desires and customized the treatment to achieve a natural and beautiful outcome. The staff at his clinic were friendly, knowledgeable, and made me feel at ease throughout the process. I highly recommend Dr. Duygulu to anyone seeking eyebrow lift surgery in Turkey.
I had an amazing experience with Dr. Hasan Duygulu for my Eyebrow Lift surgery. The results exceeded my expectations and the entire process was smooth and professional. Dr. Duygulu's expertise and attentiveness made me feel comfortable and confident throughout. Highly recommended!
I cannot express how satisfied I am with my Eyebrow Lift procedure performed by Dr. Hasan Duygulu. From the initial consultation to post-operative care, Dr. Duygulu and his team provided exceptional support and guidance. The results are natural-looking and exactly what I wanted. Thank you for your outstanding work!
Dr. Hasan Duygulu is a true master in Eyebrow Lift surgery. His skillful hands and attention to detail transformed my brows, giving me a more youthful and refreshed appearance. The entire journey was seamless, and the level of care I received was outstanding. I am beyond happy with the results and would recommend Dr. Duygulu to anyone seeking aesthetic procedures.
I am extremely satisfied with the results of my Eyebrow Lift surgery performed by Dr. Hasan Duygulu. His expertise and attention to detail were evident throughout the entire process. Dr. Duygulu's personalized care and dedication to achieving natural-looking results surpassed my expectations. I would confidently refer him to anyone seeking a skilled and caring surgeon for Eyebrow Lift.
Dr. Hasan Duygulu exceeded my expectations with my Eyebrow Lift surgery. From the initial consultation to the follow-up appointments, he displayed professionalism and attentiveness. His surgical skill and commitment to patient satisfaction were evident in the beautiful outcome. I am grateful for Dr. Duygulu's expertise and would recommend him to anyone considering Eyebrow Lift surgery.
I had a wonderful experience with Dr. Hasan Duygulu for my Eyebrow Lift surgery. His expertise, gentle approach, and clear communication put me at ease throughout the entire process. Dr. Duygulu's meticulous technique and dedication to achieving natural results resulted in an amazing transformation. I am thrilled with the outcome and would confidently endorse Dr. Duygulu to anyone in need of an exceptional Eyebrow Lift surgeon.
Facelift What Our Patients Think?
I was nervous since it was my first surgery ever, but the doctor and staff made me feel so comfortable and the process was so smooth! Love my result and new nose so much it's exactly what I wanted and so grateful for everything.
I highly recommend Doctor Hasan and his team! Surgery went great, his team is taking a good care of you from the moment you arrive to Istanbul 🙂 When it comes to outcome, he had vision of fixing the nose but keeping it natural and according to rest of the face.
This should be a double review for Dr Hasan Duygulu. Last spring he performed an aesthetic surgery for my friend and last week he performed a full face lift surgery for me.
I'm 2 months post op I traveled from NYC to Istanbul and I'm so happy with my results. I especially want to thank Tina and Ismihan for being so amazing and being there every step of the way. Amazing doctor amazing results
I came from Scotland and had rhinoplasty 3 months ago and I couldn't be happier with my results. The whole trip was made to be very stress free and relaxed. Dr Hasan Dutgulu was very professional and knew exactly what I wanted. Highly recommended!
Hello, how can I help you?
Frequently Asked Questions